Pacing and Indexing Systems
Pacing and Indexing Systems
The Pacing Sandwiching Depositor has been designed to be a highly flexible, high output, depositing and sandwiching system. The design allows it to be magazine fed or in line from the cooling conveyor.
Anything from sponges to wire cut and rotary moulded biscuits can be handled with a variety of single or multi-deposit fillings such as cream, marshmallow, jam or caramel.
On "In line" systems products are transferred directly from the cooling conveyor, are grouped and aligned then if required alternate rows are turned over to create bases and lids. After further alignment they pass under the Pacing Depositor where the filling is accurately placed. After depositing, the lid is lifted and the base allowed to move into position below. The lid is placed on top and squeezed to give the correct product height. A sizing roller or tamper ensures final biscuit thickness.
Electronic servo control systems synchronises the PSD with the biscuit feed and 'on the run' phasing of the rotaline allows extremely accurate biscuit positioning. 
The electronic system not only allows 'on the run' changes to timing but also several different batches of settings to be held within the memory. Both rotary and slider valve manifolds can be utilised on the Pacing sandwich Depositor. 
Machine Features
Outputs up to 200 biscuit rows/minute.
In line or magazine feed systems.
Product flexibility.
Servo Contol for 'on the run' adjustment by HMI.
Oakes Rotary valve manifold.
Automatic band tracking.
Electronic rotalign drive.
Customised design.
Hygeinic design.
Stainless steel manufacture.
Adjustable Pacing motion.
Machine Options
Staggered pattern realignment.
Pivoted reject slide.
Slide align unit.
Variety of manifold nozzle patterns.
De-tipping roller (wet or refrigerated).
Brush belt wash.
Multi-stage depositing.
Typical Sandwiching Installation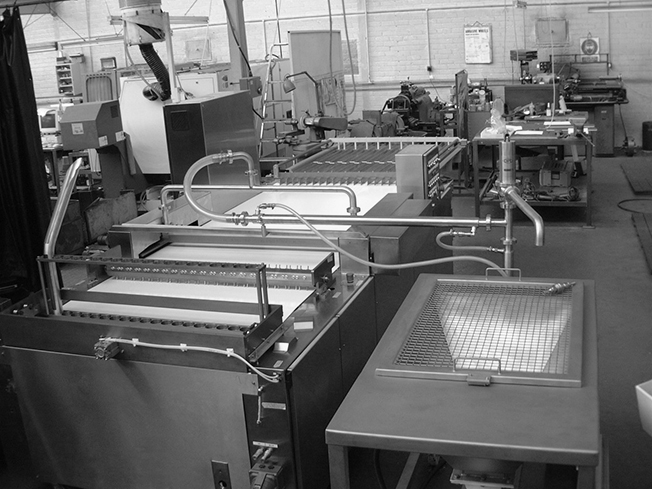 We manufacture a complete range of equipment to provide a totally integrated system for the handling of all fillings, including jam, marshmallow, cream and fondant.
We have the people who understand the many and varied requirements of the industry. Traditional skills are combined with state of the art technology to provide a high quality product with reliability and efficiency as key factors.
Indexing Conveyor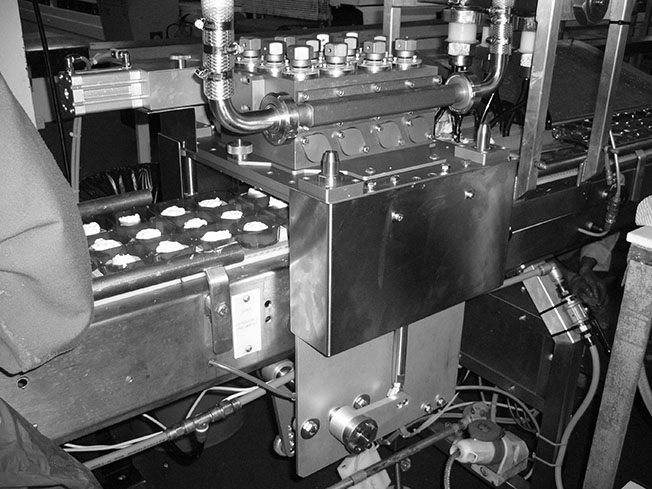 We manufacture simpler indexing systems to feed the depositing equipment. These use a simple indexing system and a suitable manifold depositor. The indexing conveyor is ideal for depositing on product already in acetates. 
Servo Controlled Overhead Depositor (OHD)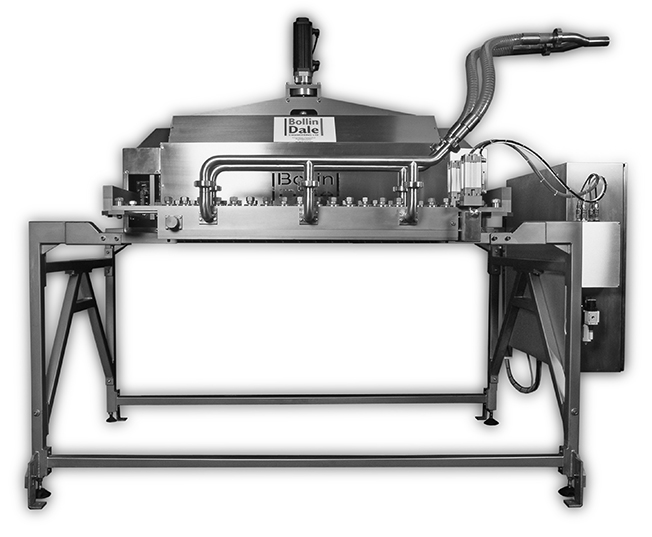 The Overhead Depositor is a freestanding unit designed to locate over an existing conveyor or oven band. The unit can be fitted with up to two rotary valve or slider valve depositing manifolds, that will spot deposit product directly onto the conveyor/oven band below.
The pacing mechanism is controlled by 2 servo drive motors. The pacing stroke and lift movement are fully adjustable. The combination of very accurately positioning servo motors and high quality linear bearings ensure a smooth and consistent motion. The deposit is operated via the electronic logic to give precise but variable on and off.
The entire unit is designed to be very user friendly, parameters are all easily adjustable via the HMI touch screen. The HMI screen has various levels of password security.
Where space is a premium, the overhead depositor can be suspended from a mezzanine platform.
The Overhead Depositor is easily adaptable to a wide range of products including, but not limited to jaffa cakes, piskote, ladyfingers, teardrops, mallows, meringues, creams and fondants.
Lug Chain Depositor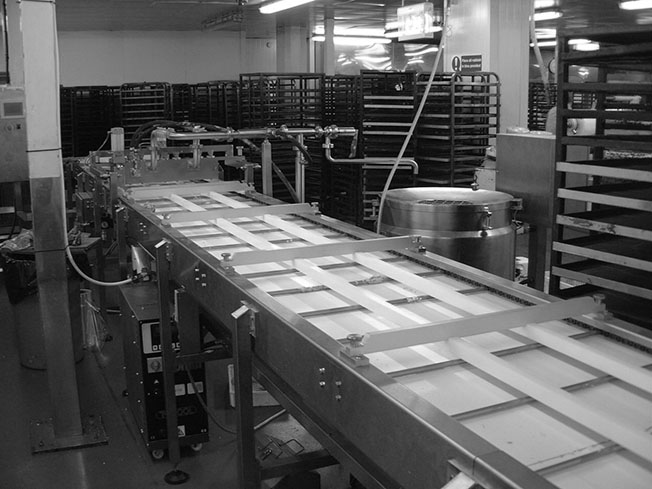 We offer a complete range of bespoke lug chain and indexing conveyor systems to suit the customers trays, with a choice of depositing manifolds to accurately deposit a vast range of products: –
Layer cakes, Celebration cakes, Cup Cakes, Slab Cakes, Muffins, Large Fruit cakes, Sponge cakes Meringues, Mallow Products, Creams, Fondants, Various savoury Products.
Continuous Depositing Systems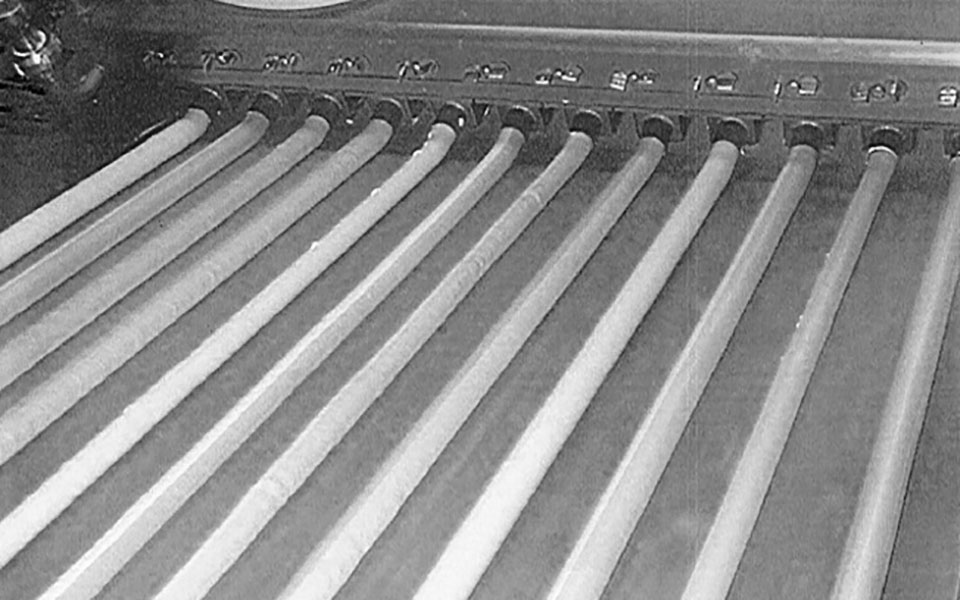 Continuous mallow products
To operate with our range of continuous aeration mixers and depositors we offer a range of continuous conveyor systems. Used for the production of extruded mallows together with starch sprinkling and retrieval systems also cutting systems. We can also provide cutting systems as part of an integrated system.
Sheet batter products
These systems also suit the production of swiss roll type products with the continuous depositing of the batter as well as jam and cream sheeting. We also have sprinkler units for sugar, nuts, semolina, flour and similar products.
Automatic Depositing Systems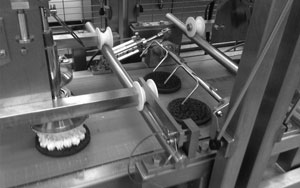 We can design and manufacture fully auto  mated depositing systems, particular examples we have made include creaming of sponge cakes.